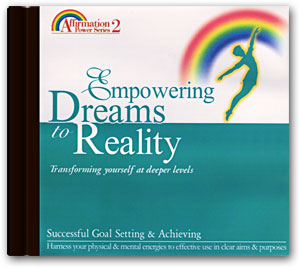 Empowering Dreams to Reality
Audio CD
MYR 40
MP3
MYR 40
Overview
Do you have a dream that you do not know how to manifest into reality? Or perhaps you never have had a dream come true?
Either way we are here to help you to build your motivation to make the pursuit of your dreams become easier and effortless!
Realizing your dreams takes motivation, determination, persistence and effort. These affirmations in this recording will reinforce your confidence and improve your ability to make decisions and to strengthen your resolve.
Repeating these affirmations will also help keep your mental energies focused and motivation high!
Check out our audio CD and may your dreams come true!
Product Details (Audio CD)
ISBN
978-983-4113-17-9
Number of Discs
2
Length
CD One : 23.64 minutes
CD Two : 23.78 minutes
Weight
100 grammes
Contents
Disc One
Track 1 : To stay focused and motivated (10:16 mins)
Track 2 : Effective organization and time management (7:24 mins)
Track 3 : Resourceful thinking (6:24 mins)
Disc Two
Track 1 : To cultivate decisiveness (6:25 mins)
Track 2 : To take action (7:20 mins)
Track 3 : Taking personal responsibility (10:33 mins)