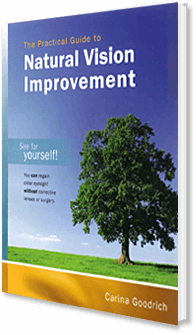 The Practical Guide to Natural Vision Improvement
Selling Price
MYR 60
Overview
You can regain clear eyesight without glasses, contact lenses or surgery.
In this easy to use and understand book you will be taken on a step by step process that will help you to :
Learn the principles and techniques effective for short-sightedness (myopia), long-sightedness (hyperopia), 'old-age' reading blur (presbyopia) and astigmatism
Understand your prescription and work through reduced prescriptions and other transition tools until you no longer need corrective lenses
Set up your personal program of proven vision improving activities
Change the lifelong habits that contribute to poor eyesight and eye strain
Understand and work with the emotional causes of visual blur
Assess your own vision and be aware of how and why it changes
Maintain good eyesight for life, and help your family and friends to do the same
Product Details
| | |
| --- | --- |
| ISBN | 978-983-4485-30-6 |
| Format | Paperback |
| Author | Carina Goodrich |
| Dimensions | 9.8 (h) x 7.5 (w) x 0.4 (d) inches |
| Pages | 264 |
| Weight | 520 grammes |
Contents
Section One : Introduction
• History of Natural Vision Improvement
• Frequently asked questions
• Description of sections
• Glossary
• How to learn this material

Section Two : Self Assessment and Transition Glasses
• A step by step guide to your prescription
• Self assessment - How to measure your own visual acuity
• Checking for fusion
• Why is my vision like this?
• Transition glasses
• Pinhole glasses
Section Three : Setting up your home programme
• How to use your reminder chart
• You can start right away here
• Preparation activities - Getting ready for good eyesight
• Specific activities for myopia and hyperopia
• Specific activities for presbyopia
• Emmetropia - Maintaining or improving good eyesight
Section Four : Specific Needs
• Astigmatism - Smoothing the warp
• Amblyopia - Are you using both your eyes?
• Strabismus - Turning eyes
• Patching - Balance the acuity
• Fusion - Two eyes and brain together
Section Five : Factors that influence eyesight
• Your occupation
• Nutrition and health
• Emotions
Section Six : Charts and References
• Personal programme process map - Text guide
• Personal programme process map - Diagram
• Self assessment record sheet
• Optometric assessment record sheet
• Reading chart
• Distance chart
• Transition glasses guidelines
• Reminder chart
• Fusion chart
• Emotional tone scale
• Troubleshooting
• Index
• For your notes
• Further support
About the Author
Carina Goodrich brings to her work a lifetime of immersion in Natural Visoin Improvement and more than 12 years teaching groups and individuals.
Her knowledge and experience of The Janet Goodrich Method is refined in this book into a practical and easy to understand format that will help you to gain the knowledge and skills to manage your eyesight on a daily basis and keep your visual system in good health for life.
Carina is the daughter of internationally best-selling author and world-renowned eyesight educator Dr. Janet Goodrich.