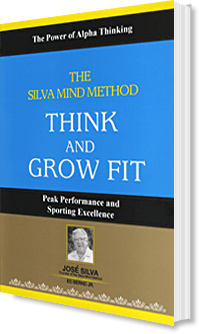 The Silva Mind Method for Think And Grow Fit
Printed book
MYR 60
| | |
| --- | --- |
| Download the first chapter FREE | |
Overview
Using The Silva Mind Method to 'Think And Grow Fit'
Top athletes know the difference between being average and being a champion depends on how well you use your mind. Whether you want to be a world class athlete or just stay in shape to look good, you will achieve maximum results effortlessly, when you use your mind the way the superstars do.
What goes through the mind of a superstar?
'Think and Grow Fit' embodying The Silva Method Techniques is an encyclopedic work that covers all aspects of mental training for fitness and sports. Dozens of people just like you - from fitness trainees, weekend wannabes to world champions - explain exactly how they use the techniques of the World's Number One mind development program to help them make their dreams come true.
This Mental Resilience Training Program improves sports performance using sport psychology and mental strength and is recommended for athletes, coaches and parents.
Product Details
| | |
| --- | --- |
| ISBN | 983-3118-14-3 |
| Format | Paperback |
| Author | Jose Silva & Ed Bernd JR |
| Dimensions | 8.3 (h) x 5.8 (w) x 0.69 (d) inches |
| Pages | 316 |
| Weight | 410 grammes |
Contents
Introduction

How to use this book
Section 1 : The Fundamentals
• Chapter 1 : The power of alpha thinking
• Chapter 2 : Developing a championship attitude
• Chapter 3 : Inside the mind of a superstar
• Chapter 4 : Know yourself
• Chapter 5 : Relax, It's good for you
Section 2 : Program yourself for success
• Chapter 6 : The mental imagery of the superstars
• Chapter 7 : Advanced techniques
• Chapter 8 : Triggers and other ways to get "in the groove"
• Chapter 9 : Developing anticipation
Section 3 : Specific training routines
• Chapter 10 : Training for fitness
• Chapter 11 : Program yourself to win
• Chapter 12 : Using mental techniques during competition
• Chapter 13 : Postcompetition programming
Section 4 : General self improvement techniques
• Chapter 14 : Develop success habits
• Chapter 15 : Self management techniques
• Chapter 16 : Rest and recovery
• Chapter 17 : Nutrition and weight control
• Chapter 18 : The healing power of your mind
Section 5 : Additional topics
• Chapter 19 : Training under special circumstances
• Chapter 20 : Biofeedback equipment
• Chapter 21 : The student athlete
• Chapter 22 : Your responsibilities as an athlete
• Chapter 23 : A note to parents and coaches
• Chapter 24 : Persistence