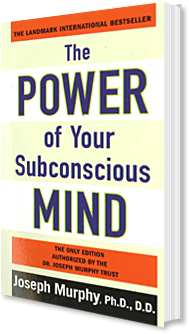 The Power of Your Subconscious Mind
Selling Price
MYR 48
Overview
The Power of Your Subconscious Mind introduces and explains the mind-focusing techniques that remove the subconscious obstacles that prevent us from achieving the success we want-and deserve.
This authorized edition of Dr. Murphy's keystone work is the first premium mass market edition to feature additional commentary drawn from his unpublished writings.
As practical as it is inspiring, Dr. Murphy's work demonstrates with real-life examples the way to unleash extraordinary mental powers to build self-confidence, create harmonious relationships, gain professional success, amass wealth, conquer fears and phobias, banish bad habits, and even to effect physical healing and promote overall well-being and happiness.
Product Details
| | |
| --- | --- |
| ISBN | 978-0-7352-0455-3 |
| Publisher | Prentice Hall Press |
| Format | Paperback |
| Author | Joseph Murphy Ph.D. D.D. |
| Dimensions | 7.5(h) x 4.2(w) x 0.9(d) inches |
| Pages | 342 |
| Weight | 210 grammes |
Contents
Introduction: Are you getting the most out of life?
Preface : How this book can work miracles in your life
Chapter 1 : The treasure house within you
Chapter 2 : How your mind works
Chapter 3 : The miracle-working power of your subconscious mind
Chapter 4 : Mental healings in ancient times
Chapter 5 : Mental healings in modern times
Chapter 6 : Practical techniques in mental healings
Chapter 7 : The tendency of the subconscious mind is lifeward
Chapter 8 : How to get the results you want
Chapter 9 : How to use the power of your subconscious mind for wealth
Chapter 10 : Your right to be rich
Chapter 11 : Your subconscious mind as a partner in success
Chapter 12 : How scientists use the subconscious mind
Chapter 13 : Your subconscious mind and the wonders of sleep
Chapter 14 : Your subconscious mind and marriage
Chapter 15 : Your subconscious mind and your happiness
Chapter 16 : Your subconscious mind and harmonious human relations
Chapter 17 : How to use your subconscious mind for forgiveness
Chapter 18 : How your subconscious mind removes mental blocks
Chapter 19 : How to use your subconscious mind to remove fear
Chapter 20 : How to stay young in spirit forever

About the Author

Dr. Joseph Murphy wrote, taught, counseled, and lectured to thousands of people all over the world, as Minister-Director of the Church of Divine Science in Los Angeles. His lectures and sermons were attended by thousands of people every Sunday. Millions of people tuned in his daily radio program and have read the over 30 books that he has written.
Dr. Joseph Murphy has been acclaimed as a major figure in the human potential movement, the spiritual heir to writers like James Allen, Dale Carnegie, Napoleon Hill, and Norman Vincent Peale and a precursor and inspirer of contemporary motivational writers and speakers like Tony Robbins, Zig Ziglar and Earl Nightingale. He was one of the best selling authors in the mid-twentieth century. His book THE POWER OF YOUR SUBCONSCIOUS MIND has sold millions of copies and has been translated into seventeen languages. This book has never been out of print and is still one of the best sellers in the self-help genre.
Over the years Dr. Murphy has given lectures and radio talks to audiences all over the world. In his lectures he points out how real people have radically improved their lives by applying specific aspects of his concepts, and gives the listener guidelines on how they too can enrich their lives.