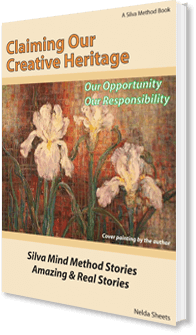 Claiming Our Creative Heritage
Printed book
MYR 49
E-book
MYR 40
| | |
| --- | --- |
| Download the first chapter FREE | |
Overview
Nelda Sheets shares true life stories of personal exploration, development and achievement experienced by her students in the classes she had taught.
This book embodies The Silva Method through the threads of the Silva Method Techniques used by Nelda Sheets and her students and are examples of what you can do with your life as you explore your own true potential.
Product Details (printed book)
| | |
| --- | --- |
| ISBN | 978-983-3118-15-1 |
| Format | Paperback |
| Author | Nelda Sheets |
| Dimensions | 8.30 (h) x 5.88 (w) x 0.38 (d) inches |
| Pages | 168 |
| Weight | 240 grammes |
Contents
About the Silva Method
Introduction
Chapter 1 : The Dord Fitz Story : Setting the Stage for Silva
Chapter 2 : The First Silva Method Class in Amarillo
Chapter 3 : Early Research Groups
Chapter 4 : Introducing Jose Silva
Chapter 5 : The Earliest Instructor Training
Chapter 6 : The Laredo Instructor Training
Chapter 7 : Silva Graduates Work as Psychic Mechanics
Chapter 8 : UFOs : To Be or Not To Be
Chapter 9 : John Deere Tractors
Chapter 10 : The Rancher's Mysterious Death
Chapter 11 : A Winning Attitude in Sports with Focused Thinking
Chapter 12 : Working Cases for New York City Folks
Chapter 13 : Assisting the Detectives
Chapter 14 : The Car Accident Case
Chapter 15 : Don Ingram
Chapter 16 : The Missing Pilot
Chapter 17 : Winning the Baseball Game
Chapter 18 : Black Holes are Really White
Chapter 19 : Better and Better Eyesight
Chapter 20 : Little Boy Lost
Chapter 21 : Synchronicity at Hot Springs
Chapter 22 : Silva Method Techniques : Passport to Travel
Chapter 23 : Ambassador Technique : Ticket to Africa
Chapter 24 : Coaching Your Child for the Game of Life
Chapter 25 : Expanded Awareness in the Classroom
Chapter 26 : Personal Power Brownouts
Chapter 27 : Talking about Prayer to 325 Nuns
Chapter 28 : Bravo, Puppy!
Chapter 29 : Wisdom in Dreams
Chapter 30 : The Guam Project
Chapter 31 : The Legendary Glass of Wine Technique
Chapter 32 : Alpha Bits
Chapter 33 : Claim Your Creative Heritage
About the Author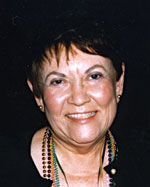 Nelda Sheets is an award-winning professional artist with paintings in museums and private collections. Nelda is listed in Who's Who in America and has been honored by Silva International with their highest award, the World Cup.
She was in Jose Silva's first public class and worked closely with Silva from the onset, assisting with research.
Nelda is the first Certified Silva Method Instructor. She taught art to children for twelve years and used the Silva Method techniques with great success in those classes. A desire to share problem-solving techniques with her students triggered a desire to teach the Silva Method to children.
She has worn many hats in the Silva organization: She was on the instructor training staff for fourteen years, Director of Silva Conventions for five years, and worked with the Silva Education Project on Guam. Nelda has taught the Silva Basic course, the Silva Graduate course, Ultra, Mind 2.5, the Silva children's course, the Creativity Workshop, Positive Parenting Workshop, and the Silva Graduate Instructor training. She has taught in such places as Kenya, Australia, Ireland, France, Netherlands, Canada, Puerto Rico, Guam, as well as in many cities in the United States.
Testimonies
"...I filled in my perspective and experiences as I warmed to your narratives...brilliant; definitely "a creative tapestry woven with picturesque threads of gold, wool, silk, and homespun cotton" I would have to add LOVE, INSIGHT, WISDOM, PRACTICALITY, HUMILITY, JOY, LAUGHTER, PEACE, RESPECT, RESPONSIBILITY, CARING, DEDICATION, LOYALTY, JUSTICE, SERVICE... AND VIRTUES AS YET TO BE NAMED!!"
Harry McKnight, Certified Silva Method Instructor
Claiming Our Creative Heritage ~ Silva Stories begins with a short autobiographical sketch that lets the reader in on the fantastic voyages, life-changing events, and wonderful synchronicity that placed Nelda Sheets and Jose Silva on the same path. Her biographical bits about Jose, early-day instructors, graduates of the very first class, and the artist Dord Fitz, are revealing, funny, and sometimes poignant.
Sylvia Hodges, Certified Silva Method Instructor