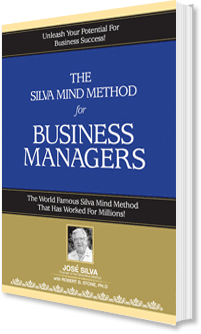 The Silva Mind Method for Business Managers
Printed book
MYR 30.00
E-book
MYR 23.00
| | |
| --- | --- |
| Download the first chapter FREE | |
Overview
Tired and frustrated with workplace stress, in meeting endless deadlines and sales targets, or putting out small fires which takes your time away from more important things in your office or business?
Don't worry! You are not alone! But instead of getting frustrated, be proactive and use The Silva Method Techniques to help you manage and grow your business effectively.
"The problem is not the problem. The problem is your attitude about the problem." - Jack Sparrow
Discover how to combine the logical mind with the often-dormant creative side and dramatically improve your powers of concentration, memory and decision making.
Learn how to use The Silva Method Techniques to raise your energy levels, communicate better with colleagues and customers, manage time and mental resources more effectively, trigger creative solutions to your toughest problems and increase productivity by reducing work palace stress.
Product Details (printed book)
| | |
| --- | --- |
| ISBN | 978-983-3118-02-1 |
| Format | Paperback |
| Author | Jose Silva & Robert Stone, Ph.D. |
| Dimensions | 8.25 (h) x 5.9 (w) x 0.5 (d) inches |
| Pages | 224 |
| Weight | 300 grammes |
Contents
| | |
| --- | --- |
| Chapter 1 : | Common manager problems and how to use the Silva Method for solutions |
| Chapter 2 : | Triggering creative ideas to stay ahead of the competition |
| Chapter 3 : | How to replace manager doldrums, headaches and burnout with dynamic ongoing enthusiasm |
| Chapter 4 : | How you can gain in managerial skills when you control your mind |
| Chapter 5 : | The Silva Method for getting more of your mind to work for you |
| Chapter 6 : | Enhanced memory and concentration for effective management |
| Chapter 7 : | Silva Mind Control for a successful day |
| Chapter 8 : | Handling difficult people and solving discipline problems |
| Chapter 9 : | Managing time more efficiently with the Silva Method |
| Chapter 10 : | Getting the word to subordinates, supervisors, suppliers and salespeople |
| Chapter 11 : | How to make your presence more effective at meetings and in other situations |
| Chapter 12 : | Managing with enhanced perception in these times of change |